What is Married Fun?
Married Fun is dedicated to improving the marriage relationship for spouses, and helping them make it "Better Every Day." We help couples build better relationships by putting the right information at their fingertips, from informative articles and advice, to help on the topics of love, relationships, sex, parenting and more.
Features Overview
Married Fun is perfect for newly-weds to couples who have been married for decades, and everyone in between. Whether you have the perfect marriage or are experiencing some troubles, Married Fun is here to help you make it better every day. Buy it for yourselves or give it as a gift for a wedding, anniversary, birthday, bridal shower or any other occasion.
Informative articles about marriage, intimacy, parenting & finances
Bedroom games that focus on foreplay and fun, increasing your emotional and physical connection
155 (and counting) different sex positions to liven up your love life
All tastefully done, free of pornography and lewd language
Site works beautifully on all your modern devices: smart phone, tablet, laptop, desktop - maybe even your tv!
Intimacy Tracker designed to prioritize your time together
Position of the day helps to keep things exciting
Weekly newsletter, birthday & anniversary reminders, etc.
Industry-standard encryption for storing sensitive data
Recommended products take the hassle out of shopping around
We're focused on the happiness and success of your marriage
Perfect gift idea for your married friends & family
Priced at less than 10 cents per day!
Articles, Tips & Advice
Find good advice, tips & tricks from our articles on a variety of topics related to marriage & parenting.
Features:
Separate articles written for the "him" and "her" perspective
Build a more loving relationship
Finding time for just the two of you
Improve communication between husband and wife
Find new ideas for romance
Help with love, marriage, parenting & finances
Increase the happiness in your home
And much more...
Bedroom Games
Spice up your bedroom routine with some classic couples games or try one of our many original games, exclusive to Married Fun.
Features:
Add more fun to your bedroom activities
Exclusive games and bedroom classics
Games are designed to encourage and increase foreplay
Build more intimacy by coming together through games and fun
Anatomy & Erogenous Zones
Begin with an introduction (or review) of you and your spouse's sexual anatomy. With a better understanding of each other you'll be better able to find and provide pleasure in each other in a meaningful way.
Learn all the places your spouse likes to be touched; there might be a few places you're neglecting. We'll help you figure it all out so you don't disappoint.
Sex Positions
Improve intimacy and fun between you and your spouse by learning new love-making positions. Whether you're just married or have been married for decades, you can always learn some new tricks.
Features:
155 different sex positions with high quality illustrations that are tastefully done
Choose from 5 different illustration styles to match your preferences and comfort level
Simple, to-the-point descriptions for each position or technique
A different featured position each day
Search by name or keywords
Browse all positions
Filter by who is most active, difficulty, type, user rating and more
Add positions you'd like to try to your watch list
Rate positions and view your favorites
Intimacy Tracker
Prioritize and keep track of your intimate time together using the Married Fun Intimacy Tracker. Build your calendar together of your past activites and even schedule out future intimate time. Using our tracker you'll never forget the answer to the question "Honey, how long has it been?"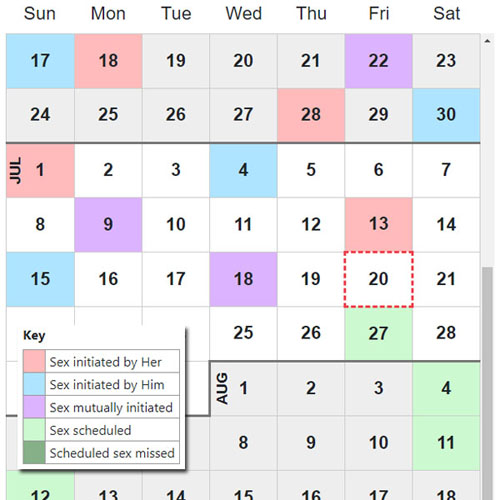 Date Planner
Date night is an important time for couples to come together with all that's going on in their hectic lives. Need a quick way to plan out your next great date? The Married Fun Date Planner helps couples evaluate the things they would like to do together and then lets them easily find great date ideas according to their preferences.
Recommended Products
Browse through our curated list of products to help make bedroom time more fun. Browse from lingerie and lubricants to books and romantic movies, all hand picked for you. Shop in a porn-free environment, either together or by yourself to surprise your spouse with something new.