Hey everyone, we wanted to let you know about some upcoming pricing increases for the Married Fun service.
Married Fun has been around for just under a year. During this time we have offered our introductory rates as we grew from nothing to where we're at today. In fact, initially Married Fun was just a personal project I created for my wife and me ;)
Since then we have been hard at work making the site available to everyone, putting together something unique that focuses on the happiness and success of your marriage.
Married Fun is designed to help you improve your marriage, making it more fun, fulfilling and successful. By using the service with your spouse we know that you can make your marriage stronger.
We initially launched with only a few games and 25 positions. Have a look at our current offerings:
Features
130 positions (illustrated in 5 different styles to match your tastes)
12 games
Date Planner with 167 date ideas
Intimacy Tracker
47 articles about marriage, family & finances
173 love and marriage quotes
Weekly newsletter
Android app
Facebook fan page and group
We're planning to add a lot more in future releases. The updated pricing better reflects the value that Married Fun offers, and will help us provide great new content and features to the site. As always, let us know your feedback and feature requests.
We'd like to thank our valued customers and users who have helped us get this far!
Pricing Details
Our current prices will remain valid until Jan 31st, 2019. Our limited free account will continue to remain free. If you currently have a free account or a monthly subscription, you may like to take advantage of the current pricing by upgrading, but you must do so by the end of the month.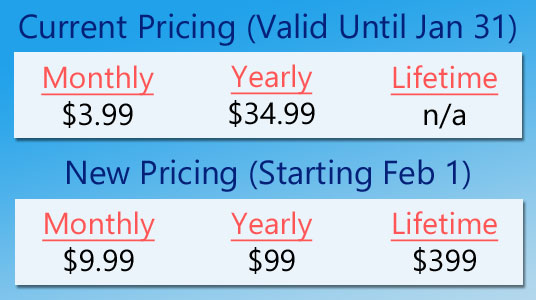 Beginning Friday, February 1st, all new and existing subscriptions will be on the new pricing plan. In addition to the monthly and yearly options, we have a new lifetime subscription option. Pay once and have full access forever!
If you don't wish to continue your subscription, visit the subscription page and click on the "Cancel Subscription" link. To take advantage of our current prices before they're gone, start your new subscription or switch from monthly to yearly billing by clicking on the button below.